Back from my Tokyo Johnny's holiday... too much to catch up on LJ, CB, forums and what not ~~ but ever so happy that its SO active ne *jumps*

I'm sure most Arashi fans will know about Aiba's Chinese Restaurant called "Keikarou" in Chiba... of course that is one of my priority itinerary place to visit. So here is my write up on the whole experience thingy... and to whoever who thinks it is difficult to find, too far from Tokyo etc etc (I was also disheartened that I almost did not go) --- let me urge ALL of you to NOT think this way!!! and I hope my write up will help whoever who aims to go there someday (^_^)




Official Restaurant Website: http://www.keikarou.com/
(Includes menu, pricing, location and directions)

Now off to the loadful pictures and videos....an unforgettable 8 February 2007, Thursday lunch for me ~~~~~


How to go there


I took the train line called
Sobu Line (Local)
for Chiba at 12:07pm that afternoon. Now, in Japan, there are like 20 bajillion train lines, and you must take special care to board to CORRECT line. Even for Sobu line, there is like 'local' line, 'rapid' line and so on... getting lost is inevitable (even for locals, I'm serious)...
Your destination stop is called
Makuharihongo
. Get off here!! Hmm I started my journey pretty near central Tokyo, and it took me about 40 mins or so...see, not that far!!! =)
When you get out of the train ticketstub machine, you can choose to walk straight out of the station OR turn right to somewhere else. Your correct choice is to
walk straight out of the station, and then turn left
(as indicated by the left arrow in the picture above! Ugh I actually took the right exit and wasted 30mins odd walking here and there to nowhere *lol*
When you turn left after leaving the station, you should see what is shown in the picture. You will have to
walk downslope until you reach the zebra crossing/traffic light
... The walk was really refreshing!!! Chiba is such a nice, cosy and peaceful place!!! Well, in all train stations in downtown Tokyo, any train station will have an average headcount of like 10 million pple, and everyone will walk at a speed of like ??km/hr...but no such thing in Chiba...it's all slow...and cosy.... *grinz*
After walking downslope and reaching the zebra crossing/traffic light, you need to turn right. The above presents a detailed layout on how to get to Keikarou... If you turn right into the correct street, you basically need to walk for just a few more minutes to see....
THIS!!!!!!!!!!!! AHHhhhhhhhhhhhhhhhhhhh......
Aiba here I come!!!!!!!!!!

In The Restaurant... ~ Lunch time!!! ~


"Irrashaimase~~~" you will be greeted with warmly. My first reaction is look around....*internal sigh* no sight of Aiba *lol*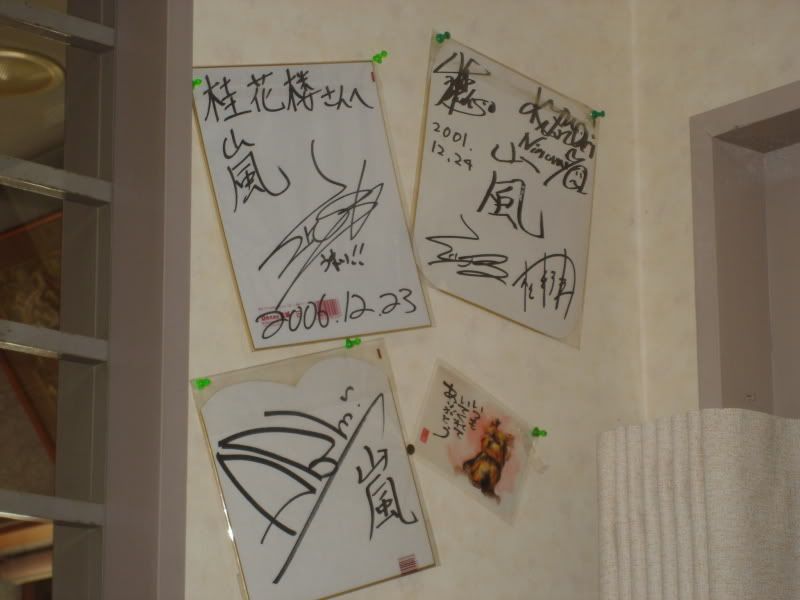 On the right wall just next to the main door, you will see the above *squeal*...basically well wishings from our boys to Aiba and his family's restaurant ~ sweet ne ~
Erm...can anyone enlighten me on this? Is it Aiba's dog?
But I thought that pic of Arashi is CUTE!! Nino with his open arms *squealzz*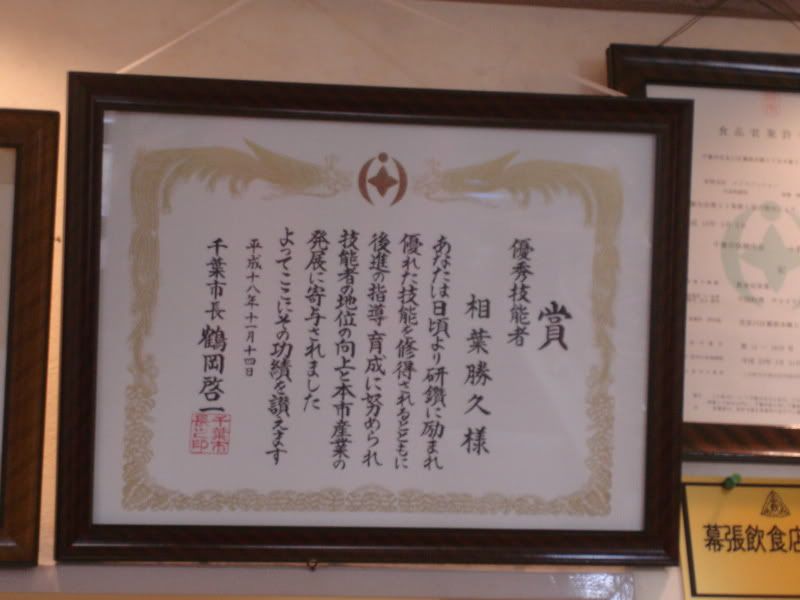 You will see framed-up awards/recognition stuff relating to the restaurant above the cashier...and this is one of them - from the Chiba mayor/lead to Aiba's dad/mum... for best skills or something like that. translations anyone? lol

And VIDEOS speak a 1000 words ne... it was a busy afternoon (yeah it was crowded! good business!!!!)... but I was glad to wait around so I could take all the above pictures and the video below like a crazy fangirl...honestly, it was quite embarrasing to take pictures and videos in a so-called normal Chinese restaurant...all the semi-old customers there must be thinking I'm mad but oh well, not like I can go there whenever I want..so away with the embarrassment and all ~yeah~
A must-click ~~~ video taken while I was waiting for a seat.... XDD
What I ate....MECHA MECHA UMAI!!!!
Kore HONTO ni MECHA MECHA umai zo!!!!!!!!!!!!!!!!!!!!!!!!!!!!!!!!!!!!!!
!!!!!!! it is really delicious -- i am NOT being biased at all here!
I ordered it off a daily lunch set menu...fried beef and cabbage in miso sauce set!
OMG i'm getting all hungry typing this

And only for 810 yen!!! cheaper than the items in the official menu *grinz*
The main dish in close-up...just to tempt you even more *lol* UMAI UMAIIIIIIIIIIIIIIIIIIIIIIIIIIIIIIII.....
..
Onaka ga IPPAI!!! (I'm full) I don't normally finish the full set...but it was TRULY SO UMAI......yum yum yum!!!!!!!!!!!!!!!!!!!!!!!!!!!!!!!!
Another must-click~~~ video taken at my table...while waiting for my umai beef and cabbage to arrive... *stomach growl*

Time to leave... *sobz*



Aiba fans will be glad to hear this...there is a MESSAGE NOTEBOOK with "Masaki-chan He (to Masaki-chan)" written on the cover. Inside are full of fan messages to our dearest Aiba from all over the world in multiple languages like English, Chinese, Japanese, Korean etc... I didn't know there was such a notebook thingy so did not prepare anything. Above is a short note I wrote to Aiba in my limited Japanese... basically telling him I'm a fan from Singapore, and requesting Arashi to come Singapore soon! *lol*

Hope he reads it and make my dream (and all Arashi fans in Southeast Asia) come true ~

Last but not least, as you can see, no sight of Aiba, no sight of Aiba's brother/father/mother and anyone that resembles Aiba.....just busy and polite waitresses...*lol* Well, I won't expect to see him anyway...it's in the middle of Thursday, and Aiba should be busy working somewhere... it is probably too much for me to take if i REALLY see Aiba IN the restaurant!!! will probably become dumb and faint, esp if he comes in with Nino...mad~

That's all for my writeup! Comments are lurved, minna!!

Current Mood:

content

Current Music:

Nino - Baystorm